Rajendras Gems World ak.a. RGW is a trusted wholesale gemstones dealer and supplier based in Delhi, India, and shipping natural gemstones across the country India and worldwide.
We deal in 100% natural and government-certified gemstones only. We have a diverse range of precious and semi-precious gemstones, raashi ratan, birthstone, gemstone beads, rudraksha and more.
People wear these stones for astrological purposes including better health, career growth, and ease out mental tension. Hence, you will find the finest quality at the best price. You will find a wide variety of authentic pure gemstones in our showroom located at A-3 and 4, Jalan Market 1075, Chandni Chowk, Maliwara,New Delhi, Delhi. 110006. We are also having certificates from various renowned organizations like GJEPC India, IGI, and IGI-GTL.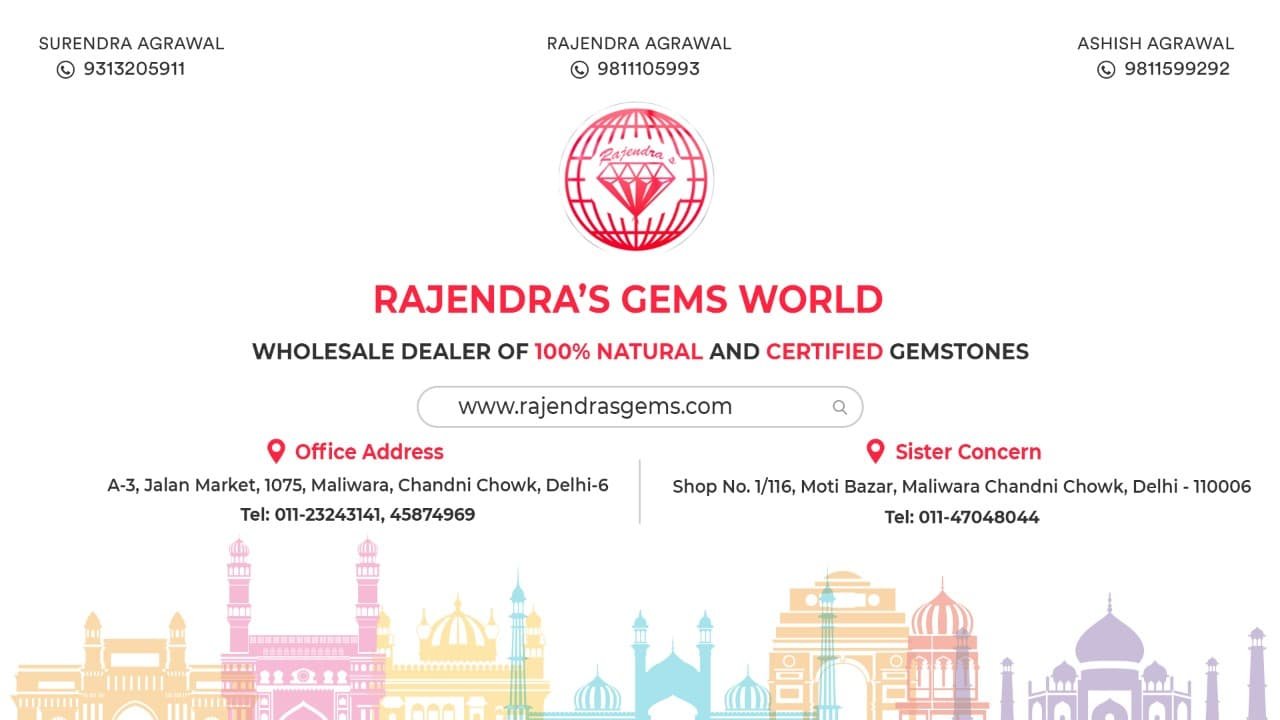 Why are we trusted gemstone sellers?
You must be thinking why to go for Rajendras Gems when other sellers are also available in the market. This is because we address the problem of the customers and solve them. You or someone in your friend circle must have come across the issue of fake or real gemstones. The person might have got attracted to the glittery appearance and fallen for it. The current market has synthetics and artificial products. So, you can easily get deceived!
Our experienced team takes stringent measures to avoid fraud with the customers. We only offer certified gemstones with the mark of authenticity from trusted gemstone labs in India. We provide unheated, untreated, and natural gemstones. Moreover, we avoid the practices like color diffused, irradiated oiled, glass-filled, and treated at high temperatures.
Buying gemstones Online from Rajendras Gems:
Assurance of originality
Don't get lost in the glitter and deceived to buy counterfeit gemstones. We understand that it is quite tough to distinguish between fake and real ones. You are not required to get worried if you are buying from us! Rajendras Gems sells certified stones with authenticity proof.
Diverse collections
We have diverse collections at our online and offline stores. There are various categories like blue sapphire, ruby, emerald, red coral, yellow sapphire, opal, cats' eyes, hessonite, and many more. The products can be filtered according to weight in Ratti, weight in carat, origin, shape, certification, price, and color. We have gemstones for every generation.
Supply system for loose ones
This feature makes us different from others. We mostly purchase these stones directly from mines, process them, and sell them to the end customer. So, the risk of middlemen and non-certified gemstones gets eliminated.
Lab- testing
Rajendras Gems undergo a stringent quality check to ensure the absence of undesirable substances or impurities. Our experts check gemstones for any cracks or scratches. The lab testing is our USP. We have partnerships with leading gemstone labs where every piece is analyzed for authenticity before the final purchase.
Affordability
We ensure to provide gemstones in your budget. They are available at wholesale price as no middleman is involved. The jewelry is quite affordable as it is directly sourced from mine.
Customer service
We don't believe only in the one-time transaction but offer pre and post-sale customer service. Our team leaves no stone unturned to make the customer experience, the best one possible.
Happy customers
We have been in the industry since 1997. We have earned many happy customers and their trust is our investment. The customers belong to all generations.