The gemstone business is one of the most attractive trades of the time. Previously, gems were believed to be luxuries that can only be bought by rich people. But, the situation has changed now.
In the present scenario, all sections of society are likely to purchase precious gems like emeralds, blue sapphire, ruby, yellow sapphire, and others. It's not just beautiful jewelry designs and astrological factors but also investment reasons that have increased the demand for gems.
Due to their appearance, unique colors, and usage, this market is continuously rising.
According to expertmarketresearch.com, the global gemstone market is expected to expand in the upcoming 5 years.
Even the new trends lead to industry growth. Thus, there are a lot of opportunities for wholesale gems dealers.
However, purchasing natural loose gemstones in wholesale is an uncertain task and people wonder how to find authentic wholesale gemstone dealers. Apart from this, there are various issues with wholesale gemstones.
Have a look at them.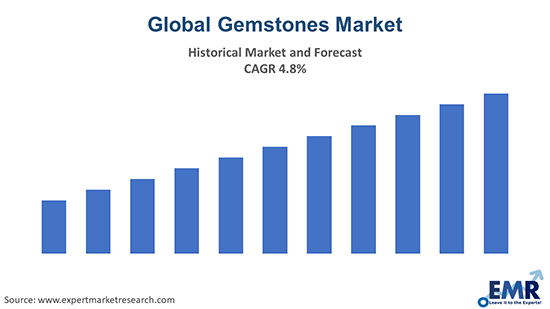 Challenges in Buying Wholesale Gemstone in India ( & How We Can Help)
Authenticity
There are several fraudulent practices that are commonly found in the gemstone industry. Filling cracks is one of them. The gemstone quality is one of the biggest issues faced by gemstone dealers. Considering local laboratories and their quality check, they are not to be trusted blindly.
Sample
When the gemstone lots meant to be purchased then few samples are shown to the buyers. However, the artificial, weak, and small sizes of gemstones are also delivered. It's not possible to check every precious or semi-precious gemstone of the lot. In such cases, sometimes buyers purchase stones with just little value for money.
Limited Scope
For buying gems and jewelry, jewelers look for the best products at cheap prices. However, this industry is so risky and mostly works on the trust factors. Due to this challenge, the gems dealers find only limited options to make purchases.
Due to global expansion and digitalization, the uncertainty in the gemstone business has been faced by buyers. The lack of required information about the market results in wrong deals. Being aware of this sector will help people in buying premium-quality gemstones. For more details, check our guide on how to buy wholesale gemstones.
Role of Middlemen
When the buyers involve third parties in precious stones deals, they tend to pay a higher price for their gems. Many times, third parties are not fair which impacts the overall budget of the buyers and sellers. Hence, both parties should involve only old and reputed middlemen.
Seal of Purity
The buyers may get cheated if they are buying uncertified gems and jewelry. Many times, gemstones are treated in laboratories or contain impurities that are hard to identify by seeing or touching. To identify these flaws, all gemstones must be checked in authentic government labs. Thus, it is advised to buy gemstones that are pure and certified.
Read More :- Gemstone Certificate Report: How to Read & Actually understand it
Know the Industry Trends
Sometimes, gemstone dealers are unaware of the existing trends of this business. As the gems and jewelry industry is large, unorganized, and affected by several factors like merchandise, import and annual consumption, etc. so buyers may not receive proper information all the time. Thus, it is crucial for even old players to stay updated with the latest trends of the industry.
Buy from Authentic Sellers
Several times, gemstone sellers try to mislead customers with the wrong product description. In fact, several reputed dealers also cheat the traders. Thus, buyers are supposed to research the sellers also. They should visit stores and make a comparison between the gems and semi-precious gemstones offered by all the sellers.
Go Online
When it comes to buying gems, the quantitative and qualitative aspects of the product needed to be justified. During online shopping, there lies the risk of image misrepresentation. However, relying on pictures for gemstone shopping is quite a risky task. This issue can be handled if the as a buyer you visit the websites of authentic sellers, get more pictures over WhatApp or Email, check the trustworthiness of the seller and then proceed.
Buying Wholesale Gemstones in Delhi, India from Rajendras Gems
The gemstone wholesale market in India is big as well as full of difficulties. Undoubtedly, many wholesale gemstone suppliers are in India still buyers struggle to find genuine gemstone wholesalers.
Although Delhi's Chandni Chowk is quite popular for wholesale gemstone dealers and suppliers, good stores are considerably few. Thus, buyers trust Rajendra's Gems World as we offer only the premium range of loose precious and 100% natural gemstones. Our wholesale collection of vivid gems wonderfully fulfills all the requirements of the buyers.
We at, Rajendra Gems provides the best prices to the customers, and you can buy loose or wholesale lots of government certified gemstones with confidence.
Since all the gemstones are certified from the best gemological labs like GJEPC, IGI, GIA, IGI-GTL, GRS, and GUBELIN so customers always get value for their money.
In fact, dealers or customers like you can find a large number of products on our website or in our store located at A-3 and 4, Jalan Market 1075, Chandni Chowk, Maliwara, New Delhi, Delhi. 110006.
This will help you in buying according to your needs. Whether its weight, certification, price, origin, shape, and color, all gemstones are being sold with complete description and transparency.